Eco Solar's Telescopic Poles are ideal for applications across urban areas and mining sites alike. Their main advantage over hinge poles is their ease of installation, requiring minimal man power to install and eliminating the need for cranes and high-rig lifting.
Unlike hinge poles that are lowered horizontally during the installation process, our Telescopic Poles are installed vertically and raised with an air compressor to your desired height. This also allows for easy access to clean the solar panel and components when necessary.
Our Telescopic Poles also come with the option of a concrete block, allowing the system to become completely relocatable. Made from reinforced concrete, the portable base block includes fork lift sleeves and lifting lugs on each corner for easy relocation.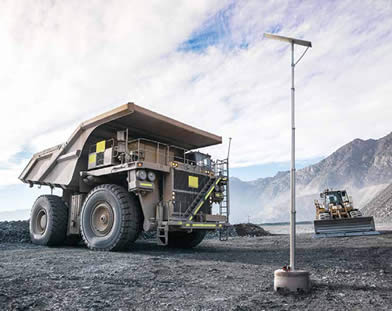 5 segments lift up by manual air pressure